Medical
Sketchy Showdown (Med/PA/Pharmacy Edition)
The biggest tournament Sketchy has ever done. Okay, the only one.
---
THE TOURNAMENT
Each day from March 21st - April 4th, you'll choose between two iconic Sketchy characters in a competition for the ages. Pick your division and vote for your favorites until a final champion is crowned! There will be limited merch, giveaways and a grand prize. For Sketchy Medical, PA and Pharmacy subscribers only.

THE GRAND PRIZE
Each time you choose a winning character, you'll be entered into a raffle. One lucky subscriber will win...
Appear in a Sketchy lesson!
Get sketched into a future lesson
and receive a framed commemorative poster of your very Sketchy Selfie. Myth, legend, epic tale… win the Grand Prize and become a part of Sketchy lore.

Already a paid subscriber? Login to your account to vote now!
TIMELINE

THE DIVISIONS
| | |
| --- | --- |
| The Bubbies: These Sketchy Bubbies might not seem like the toughest competition, but they've been around longer than you, and they know a thing or two about winning. | The Bandanas: Things are already heating up for this squad. They're sporting a Sketchy signature—the flame bandana. Can their fiery streak be contained? |
| The Birds: Fight or flight? A particularly relevant question if you're a bird. Keep an eye on the sky as this team spreads their wings against the competition. | The Babies: Sketchy classics, fan favorites… don't be fooled. This team has drawn up a winning playbook—even if it is in crayon. |
THE BRACKET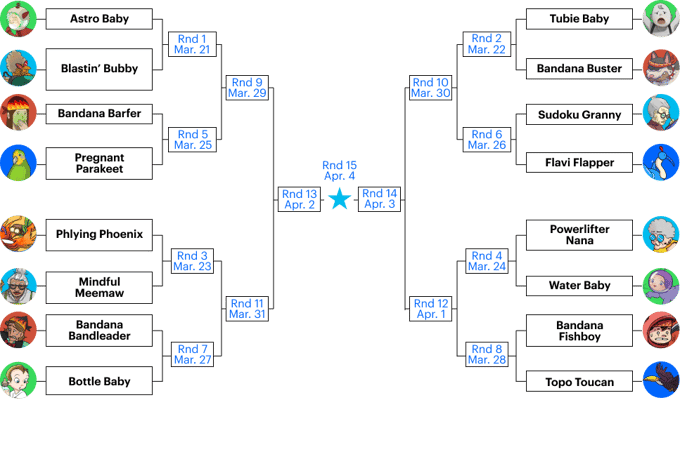 Subscribe to participate in the Showdown.
Already a paid subscriber? Login to your account to vote now!