Medical
Sketchy Neurology is Here to Help You Ace Rotations, Shelf and Boards
Sketchy Neurology's new lessons cover what you need to know for your clinical years in med school including clinical rotations, shelf exams, and boards.
---
The wait is over! That's right—you spoke, we listened. From the creative labyrinths of Sketchy's HQ we conjured up—drumroll please—Sketchy Neuro! Thirteen lessons have arrived, covering key info like traumatic brain injuries and seizure management to help you through your Neurology rotation, Shelf Exam and Step 2.
Though you may not be thinking of choosing Neurology as your speciality (but hey maybe you are), your Neurology rotation will be a great foundation in knowing how to identify and diagnose neurological problems across all specialities and provide the best care for your patients. Typically, Neurology rotations are about 4-6 weeks and aim to teach you things like the common presentations of neurological diseases as well as developing proficiency in neurological examinations. You've also got to be thinking about the Neurology Shelf Exam, which will be testing you on the common symptoms, diagnoses and treatments so it's important to have that key information memorized and understood in that brain of yours.
With all this talk of your Neurology rotation and Shelf and Step 2 exams looming in the not-so-distant future, we developed Sketchy Neuro to accompany you on the next step of your journey. Of course, we've got top neuro topics covered for your Neurology rotation and shelf exam, but neuro is uh kinda relevant to other rotations too. So don't wait to check out all the clinical pearls sketched out in these lessons.
We know clinical schedules can also get super busy, between long days working and finding time to study. Not to worry, because we made sure to break these new lessons into less than 15 minute bite-sized sessions to fit in whenever you have a few quiet minutes.
Sketchy Neuro - High Yield Topics
For a complete look at what's just come out of Sketchy's creative brains, head on over to our neuro page. You'll find lessons spread across five units, including high yield topics like:
All these lessons were created in mind to not only help you in your Neurology rotation, but for Step 2 as these hot topics are considered highly testable on the boards. As you prepare for Step 2, you can return to these lessons to review the high yield information to make sure the information sticks, where you can use the symbol explorer review cards and 45 quiz questions to test your neuro knowledge to your heart's content.
Come Along for the Adventure
But that's not all! We also have a few surprises up our sleeve. Meet this little fellow…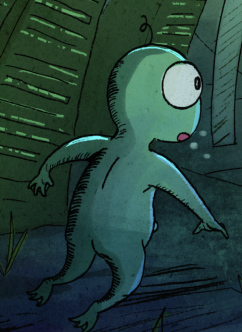 A hero, of sorts, whose epic journey just happens to weave together our new neuro lessons. We crafted a story full of memorable characters and adventure to guide you along the way as you progress through your Neurology rotation. Yeah, it's definitely epic.
Well, these are just a few highlights from our brain to yours. If you're either starting your Neurology rotation and Shelf exam studying or just want a really fun story, Sketchy Neuro's got you covered. Check out the new Sketchy Neuro lessons today.