MCAT
3 Ways to Increase your MCAT Score With Practice Tests and Quizzes
Thinking about how to improve your MCAT score? Read about 3 practical ways you can increase your MCAT score by using practice tests and quizzes.
---
Read about 3 practical ways you can increase your MCAT score by using practice tests and quizzes.
Your brain, just like your body, gets better at things it's done many times before. And the cognitive process of taking tests—reading a question, recalling relevant content, synthesizing it with given information, eliminating wrong answers, and picking the correct one—is no exception. There's established research showing that testing yourself increases scores more than passive studying, and that this principle scales with more testing: the more tests you take, the more final scores go up.
‍So how can you most effectively apply this principle to improve your MCAT score in 3 weeks? Over 6 months? By next Tuesday? There are many schedules and testing plans you can find online, but whichever you follow (or if you're making your own), remember three key points:
‍
1) Use the quizzes provided in your MCAT study resources.‍‍
Most MCAT study resources have built-in quizzes or question sets. To increase your MCAT score, don't skip them! These smaller quizzes are win-win: if you get the questions right, you've proven you can apply what you just learned and are less likely to forget it. If you get them wrong, it shows you where you missed a concept or zoned out on the previous content, so you can look back and fill in the gaps.
Make sure you focus on ALL of the areas of the MCAT, and not just one or two. Remember, the MCAT consists of four main sections, each designed to assess specific skills and knowledge required for success in medical school. The four sections of the MCAT are as follows:
Biological and Biochemical Foundations of Living Systems: This section tests your understanding of foundational concepts in biology, biochemistry, and organic chemistry.
Chemical and Physical Foundations of Biological Systems: This section evaluates your knowledge of the physical and chemical principles that underlie biological systems.
Psychological, Social, and Biological Foundations of Behavior: This section assesses your understanding of the influence of sociocultural, psychological, and biological factors on behavior and mental processes.
Critical Analysis and Reasoning Skills: This section evaluates your ability to analyze and evaluate passages from a variety of disciplines, including humanities, social sciences, and natural sciences.
If you focus your studies and review only the sections you are most concerned about, you may miss the opportunity to review the rest. Find practice questions from all areas!
Does Sketchy have practice questions? Yes! Use Sketchy's quizzes for the lessons in our MCAT course to test your knowledge and strengthen your visual memory.
2) Test yourself, even when formal practice is not provided.
‍ Sometimes quizzes haven't been created for a certain topic in the resource you're using, or you exhaust the questions available, but don't let that stop you. If you really want to increase your MCAT score, you need to create every opportunity you can to check your knowledge.

You don't need to write official, AAMC-style MCAT questions to do this. Think about how to ask yourself micro-questions. A few ways to do this are:
Create flashcards, either physical or digital (flashcards are just tiny quizzes, if you think about it)
When you're reviewing material, don't just reread or re-watch it. Cover the text or pause the video and try to generate the information yourself before you keep going.
Spend a few hours each week in an MCAT study group, asking each other questions and explaining your answers.
You can use Sketchy's interactive Review Cards as mini-tests: push yourself to define the next symbol before clicking ahead to reveal the answer.
‍
3) Use full-length MCAT practice tests to get used to the test day experience.
‍
Full-length MCAT practice exams put it all together: the long day, the passages and questions that bounce you between topics, the variety of question types and difficulty, and all the rest (except maybe that test-center smell).
Full-lengths help you tone down your nerves and tone up your skills and endurance for the real exam. But perhaps most importantly, you get realistic results. The score from a full-length practice test lets you know how close you are to your goals, and analysis of your results lets you know where your gaps are, so you can efficiently focus your further studies.
The MCAT practice test questions themselves are very helpful because they:
Familiarize you with the test format
Reinforce content knowledge
Develop critical thinking skills
Improve time management
Identify strengths and weaknesses
Enhance test-taking abilities
Engaging in regular practice can significantly improve your MCAT score and increase your chances of gaining admission to medical school.
‍(We at Sketchy don't make our own full-length exams, but our friends at Blueprint do! You can get Sketchy's groundbreaking, research-proven MCAT course and Blueprint's MCAT exams – the most representative on the market – at a special price by buying them together in the Blueprint x Sketchy bundle. It even includes an integrated study calendar and deep analytics on each test you take.)‍
‍If you follow these principles, you're pointed in the right direction! And if you combine them with a healthy study schedule and the persistence to stick to that schedule, you'll be well on your way to increasing your MCAT score in no time.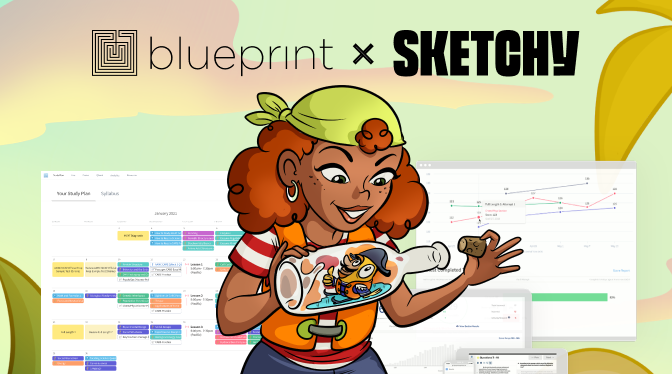 ‍
This article is part of a series of collaborative posts with Blueprint Prep. They've just published a brand-new article on proven approaches to memorizing tough biochemistry content —a topic near to our hearts at Sketchy. If that sounds interesting, go check it out! And if you want to get cracking on your own MCAT practice using the tips in this article, make a free account for Sketchy MCAT today, and make the Sketchy X Blueprint bundle a part of your prep program!